A producer profile helps you to showcase more information about the organization that is producing the coffee you sell on Algrano. The producer profile is the place to provide information about the history, the employees, your processing methods and projects and upload your best photos for the roasters to see. It will be visible on the producers map and linked to any lot you offer under that profile.
As we value full transparency, it is important that roasters instantly identify who has produced the coffee. That is why on every coffee lot that is on offer on Algrano, the roaster can click-through to the producer profile.
In many cases, the seller and the producer may be the same organization, so you may use the same name and address for that. Just make sure to use the profile to showcase your production!
If you mark a profile as 'your own', it will be visible to the roasters that your organization produces the coffee directly and does not just sell coffee from other producers, e.g. like this: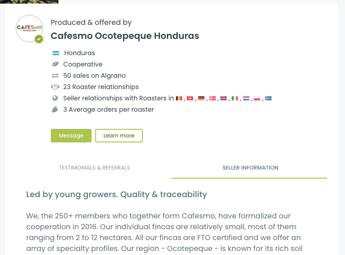 If you represent multiple producing organizations, you may create more than one producer profile page. An example could look like this: